Short Bio: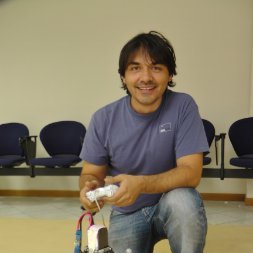 Matteo Fumagalli is Assistant Professor in Mechatronics within the Department of Mechanical and Manufacturing Engineering at Aalborg University. He received his M.Sc. in 2006 from Politecnico di Milano, and his PhD at University of Genoa, where he worked in collaboration with the IIT – Istituto Italiano di Tecnologia. He has been post-doc at the Robotics and Mechatronics group of the University of Twente, where he carried out research on mechatronic design of advanced robotic systems, including aerial manipulators and compliant mechanisms for robotics. His research interests are in the study and control of the interaction between mechanical systems, and design of robotic mechanisms (such as aerial manipulators) and sensors to control and accomplish safe physical interaction tasks. He had been involved in several EU projects, including CHRIS, AIROBOTS, SHERPA. Moreover, during his period at the University of Twente, he was the responsible for the H2020 project AEROWORKS.
Highlights

Invited speaker to the ICRA 2016 workshop "Aerial Robotics Manipulation: From Simulation to Real Life". I will present our work on Compliant Aerial Manipulators, published in the IEEE Robotics and Automation Letters (link).
Our special session "OnAerial Manipulators: Design and Control" has been accepted to the IEEE MED 2016.
Associated Editor for the 2016 IEEE International Conference on Biomedical Robotics and Biomechatronics (Biorob)
Invited speaker for the workshop on "Aerial Inspection and Maintenance", European Robotic Forum (ERF) 2016, 21-23 March, Ljubljana.

Research:

My research focuses on the area of Mechatronics and Robotics, with special interests on the design, development and implementation of robotic system that physically interact with the environment and humans.

I have been working with different technologies, ranging from humanoid robots to aerial robots (drones), novel actuators and mechatronic devices.

Videos:

Here below you can find a list of the recent coolest videos that are outcome of my research:
If you'd like more information, please download my resume and my list of publication here.